Canoe Style Boat Kit
The Classic Cajun Pirogue
(click on picture for larger image)

You've heard of the six hour canoe?
Meet the Cajun Pirogue!
Length 12' to 15'-8", Beam 31", Weight 35 to 45 pounds.
For the easiest-building boat kits we've ever come across,
write Uncle John's Easy-Build Kit,
Mother Earth News...September 1997

To Build A Classic Cajun Pirogue, You Simply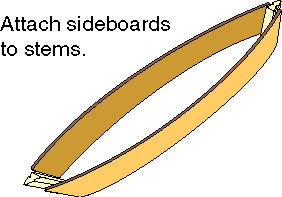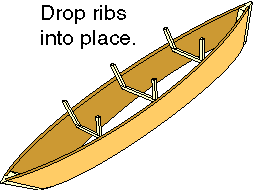 Our kit contains "the hard parts", those parts that can be the difference between success and failure. Included are pre-cut cypress stems and ribs, beveled and sanded to assure accurate lines and easy assembly. Our kit has been designed so that an individual with limited experience can successfully build a serviceable boat using basic hand tools. Building the kit requires only six to eight hours of construction time.
A great father-son project,
or simply fulfill your own fantasy, to "build a boat".
In addition to the kit, you will need two sheets of 1/4" plywood,
one 1" x 4" clear lumber for rub rails, screws, glue,
paint, nails, sandpaper, fiberglass resin and cloth.
Photos from builders - Frequently Asked Questions
Adventures with Mike
A kit builder shares his experiences through email and photos.
Click here to see a folding seat designed for our Pirogue.

Pirogue kit: $67.00 including shipping
Full building plans for those who want "to do it all", $29.50 delivered via email
Our full building plans are also available in metric.

Visit our home page


Gingerbread Trim | Boat Kits | Landsailer | Scroll Saw Patterns
Links
Be sure and bookmark our page before you leave.